The new TF35 hydro-foiling catamarans enjoyed a cracking day of super-competitive racing in the sunshine as the TF35 Mies got underway, with Ernesto Bertarelli's Alinghi emerging as top boat.
Bertarelli's crew opened the day on a roll with wins in the first two races but suffered a deep result in race three after a poor start. Despite their best efforts, the team could only claim one place back from Team SAILFEAVER and finish the race in sixth, a testament to the level of competition in the fleet. Quickly back in her stride Alinghi followed the sixth up with a second and first in races four and five respectively.
Second-placed Realteam Sailing co-skippered Jerome Clerc were the most consistent team of the day with no result lower than third over the five races sailed. 
Third overall, after day one, is the French team Zoulou with owner Erik Maris at the helm. In contrast to Alinghi's tough start in race three Maris and his crew onboard Zoulou timed their start perfectly and found themselves in the leading pack. Halfway up the second beat, Maris could squeeze the extra boat speed needed to edge ahead of his closest rivals on the course Spindrift and take the win on the line in a photo finish. A sweet moment as this is Maris' first race win in the TF35.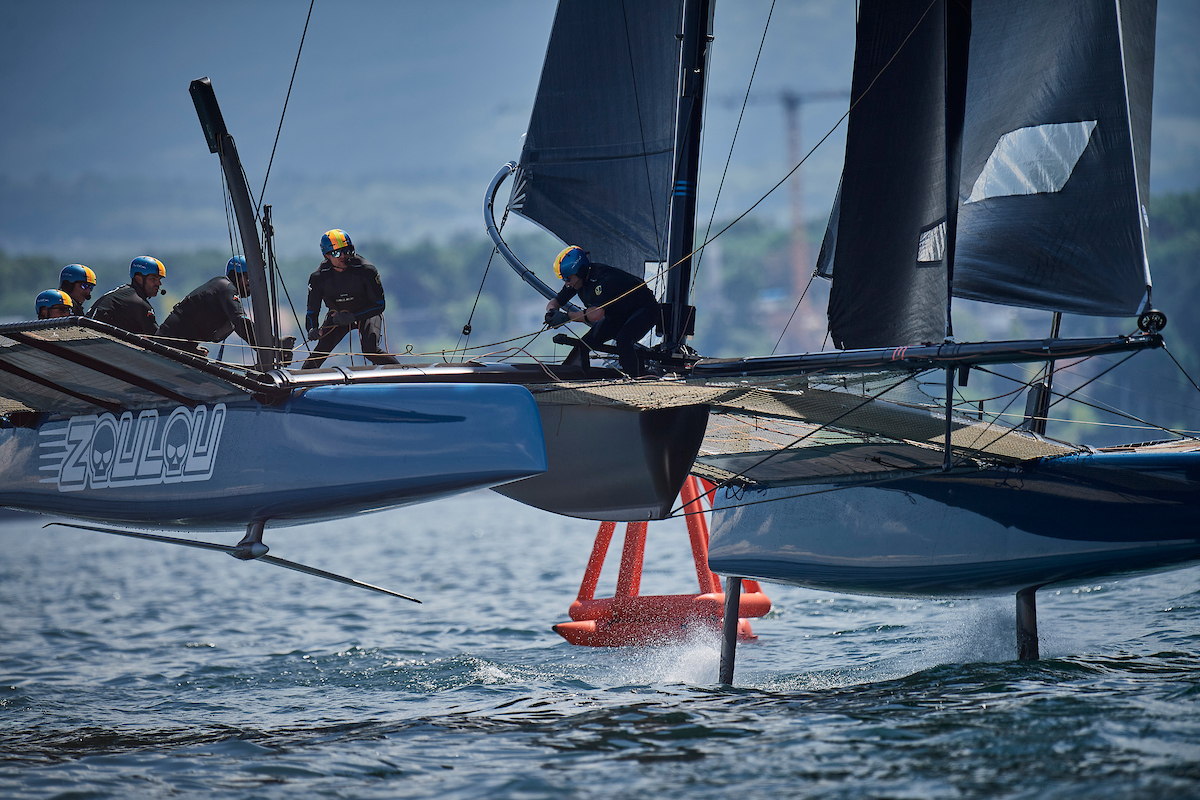 Zoulou's tactician Thomas le Breton was delighted with a solid start to the regatta: "Technically, these are not easy days; you have to focus on creating the lift and then flying the boat well. We had a positive day, we were in the leading pack in most of the time and won our first race which feels good; there are a lot of smiles on board."
Showing just how super-competitive the TF35 fleet can be, there were good results throughout the leaderboard today. Fouth placed Spindrift, helmed this weekend by Xavier Revil, claimed second in race three and third in race four. Bertrand Demole's Ylliam XII - Comptoir Immobilier posted two fourths to their scoreline to finish the day fifth overall and Frédéric Jousset's Team SAILFEVER, with Loïck Peyron at the helm, took second in the final race of the day, lifting them off the bottom rung of the leaderboard just two points ahead of ZEN Too.
Tomorrow sees a fresh challenge for the crews as the fleet racing in Mies is put on hold so that the seven TF35s can join more than 250 other boats to participate in the iconic Genève-Rolle-Genève long-distance race; prologue to the Bol'Or Mirabaud.